The Sardinian cuisine is somewhat variegated and mainly characterized by its island-status and its agropastoral culture, enriched during the centuries throughout contaminations, contacts and trades with other peoples. Vary and simple at the same time it ranges from roasted meats, to the bread tradition, the pecorino cheeses, the wines, from the sea and from the land dishes, the game meat, the fishing or the gathering of natural herbs. It is considered to be an important part of the Mediterranean diet and it was declared masterpiece of the oral and intangible heritage of humanity in 2010 by UNESCO.
My idea of cooking lesson it is not just a cuisine class, it is a complete experience on Sardinian food culture. A fun way to discover and enjoy our island through my guidance. I will entertain you and tell you all about local products and how Sardinians like them.
You will not only use your hands to cook but also learn how to present courses in a beautiful way, enrich flavors with simple ingredients and match the right wines and dishes.
The products used in your lesson, like the home made olive oil, the wine or the self-farmed meats are organic and carefully selected by myself. They come from Escolca a tiny village in the center of the island where my parents live.
The courses can be held wherever you are (villa, apartment, boat etc.) or in one of the several extraordinary locations of my network. Most of them located an hour's drive away from Cagliari and are just stunning. Beautifully restored according with tradition and using original eco-materials, they will be the perfect setting for cooking, sipping an aperitif and finally enjoy the exquisite meal prepared together. If you wish we can also arrange for you to stay overnight.
At the end of the lesson you will enjoy a mouth-watering meal with the dishes we cooked together. Furthermore you will receive a printed souvenir with the recipes of the dishes and the best tips on how to reproduce them at home.
Your cooking lessons can focus on one of the following themes.
Home made pasta ›
---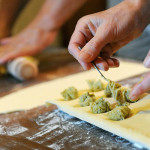 Learn how to make fresh malloreddus, ravioli, culurgiones, spaghetti and tagliatelle; cook them and garnish them with meat, vegetables or fish sauces.
---
Read more
Fish soup ›
---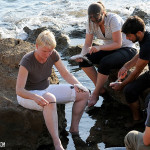 Learn how to clean fish sourrounded by a stunning environment. I will teach you all the tips to recognize the freshest fish and cook a superb soup.
---
Read more
The centenarians meal ›
---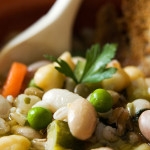 Based on interview with centenarians themselves and extends from soups made with wild vegetables to ancient home made pasta dishes this meal represents the opportunity to make a valuable cultural experience.
---
Read more
Ancient recipes and dismissed cooking tools ›
---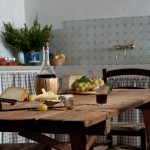 This lesson can be considered a whole cultural experience in touch with the rural environment.
---
Read more
Disgusting delicacies ›
---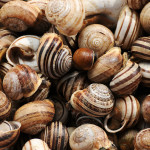 In this cookery lesson we share with you a wide choice of thrill-recipes of the Sardinia culinary tradition that foodie adventurers would consider unmissable.
---
Read more
Meat, fish and vegetables ›
---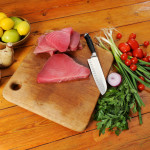 A mix of meat, fish and vegetables dishes to choose from according to your taste, seasonality and availability of local produce. In this lesson you have the possibility to choose among all the recipes published in this web site.
---
Read more